News
I recently had the pleasure of reading at the monthly salon held (remotely) by Irish American Writers and Artists. Karen Daly's lovely article about the event appears in THE IRISH ECHO:
Thanks to Peter McDermott of THE IRISH ECHO for interviewing me for his piece about my novel BLACK TOM. You can read the article here:
I had a wonderful time reading from BLACK TOM at Liberty State Park. Thanks to Brian Murray and the entire staff at LSP for arranging the event, and to all who attended. Thanks also to Brian for posting a brief video of my reading:

Thanks to writer Marina Raydun for interviewing me for her blog. A link to the interview is below.

I'm excited to announce that I'll be reading from and discussing BLACK TOM at the historic Central Railroad of New Jersey terminal at Liberty State Park in Jersey City on Sunday, March 11th at 1:00 p.m. The event will take place in the Blue Comet Auditorium. Copies of BLACK TOM will be available for purchase. The area of Jersey City that was once Black Tom Island is now part of Liberty State Park so there's no more appropriate spot for a reading.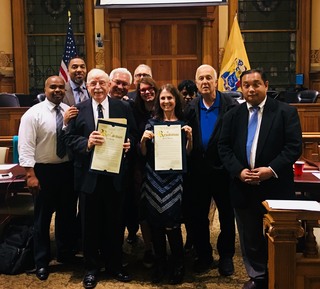 On October 25th, 2017, the Jersey City Municipal Council adopted a resolution recognizing me for writing BLACK TOM. The picture shows me with the President and Members of the Council at City Hall just after the resolution was adopted. (Ron Semple, a fellow author, was also honored.) The document concludes: "NOW, THEREFORE, BE IT RESOLVED that the Members of the Jersey City Municipal Council hereby recognize Patrice Hannon, an author who resurrected a dark part of Jersey City history and in doing so has contributed to our diverse cultural past, present, and future." Needless to say, I was thrilled to receive this great honor.
"Let's Explore the Black Tom Explosion"
On October 30th, 2017, the blog chicpeajc.com published an article by Lauren Bienvenue about the Black Tom explosion featuring my novel. A link to the piece appears above.